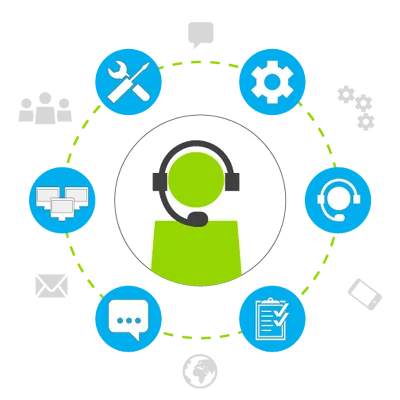 AVYUKTA INTELLICALL established in 2008, has been a leading provider of call center solutions to over 1500 businesses globally. With 14 years of experience in the telecommunication industry, our expert support and software teams have been delivering top-notch products such as call center dialers, VoIP services, predictive dialers, CRM solutions, and BPO call center solutions. Our call center dialer software is built on cutting-edge technology and is considered one of the best in the world, with a presence in 9+ countries including the UK, US, Philippines, and more. Based in Jaipur, Rajasthan, our clients come from a wide range of industries and countries. We take pride in our association with renowned brands such as KFC, Amul, Pfizer, Pizza Hut, HP, and BSNL, among others. Whether you are looking for complete call center solutions or just need support with a specific aspect of your call center,Avyukta Intellicall is here to help.
Why choose us.
Avyukta Intellicall is a premier provider of end-to-end contact center solutions. that are designed to meet the ever-evolving needs of today's businesses. With a strongenhances the overall customer experience, making it a must-have solution for businesses looking to take their customer engagement to the next level.
Who we are? What we do?
Avyukta Intellicall is the ideal solution for call centers, small- and medium-sized enterprises (SMEs), and business process outsourcing (BPO) providers. With its innovative technology and user-friendly interface, With a wide range of features including soft/hard predictive dialers, interactive voice response (IVR) systems, and a powerful customer relationship management (CRM) platform
Our Mission
At Avyukta Intellicall, our goal is to help our clients grow by providing the best solutions for their unique needs. We prioritize our clients' requirements and deliver easy-to-use solutions within the agreed timeline. Our approach is simple, straightforward and client-focused, ensuring long-lasting relationships and successful outcomes.
Features
Check The Features
WebRTC (No softphone required on Linux/Windows Machines)
Provision to set user levels and permissions for certain features and campaigns
Skills-based ranking and call routing per inbound group(queues) and campaign
Queue Prioritization per campaign and inbound group, Single Tree IVRS, Real Time Monitoring
SMS/Email OTP verification on lead /recording /report download for better internal security
Automated Team Leader for time-based triggers (SMS/Email reminders) for wait time, pause time, No Calls
Hot Key Disposition (to save TAT and increase Talk Time)
Faster hang up/dispositioning with one key press (Hotkeys)
Press 1, Broadcast, OBD, Voice Mai
Predictive Auto Dialer
A predictivedialer is a technology that optimizes call center operations by automating the dialing process and connecting answered calls to agents. Using statistical algorithms, it predicts agent availability and reduces wait time for callers, improving call efficiency and productivity.
CRM Solution
Customer Relationship Management is a strategic approach that businesses use to manage and analyze interactions with their customers. It involves the collection, storage, and analysis of customer data, such as purchase history, communication history, and preferences, to improve customer relationships and drive business growth.
CTI Solution
Computer Telephony Integration is a technology that enables seamless integration between telephones and computers, allowing for coordination of communication between the two. It provides a unified interface for controlling and managing phone calls, making it easier for businesses to streamline their communication processes and improve their customer service.
IT Service
IT as a Service is a delivery model,The IT service provider acts as an internal IT organization, offering technology solutions and services that meet the specific needs of the customer.businesses can access the latest technology and services without incurring the costs of maintaining an in-house IT team, enabling them to focus on their core business activities and achieve their strategic goals.
Cloud Telephony
Cloud Telephony Solution - is the cutting-edge tools to enhance their communication and customer engagement. With an instant go-live option, virtual number, configurable IVR, progressive dialers, and number masking. Their advanced IVR system and easy integration with CRM/CTI make it a powerful auto-dialer solution for businesses of all sizes.
VoIP
A VoIP is a modern communication method that allows users to make voice and multimedia calls over the internet. It enables users to communicate through the use of IP networks, rather than traditional telephone networks. This technology has revolutionized the way people communicate, making it possible for individuals and businesses to make calls from anywhere in the world, without having to pay long-distance fees.
Pricing
Check our Pricing Plans
DIALER
?720
Rent A Dialer starting @720 INR
Purchase A Dialer starting @5200 INR
EMI A Dialer starting @1500 INR
UNLIMITED
?3600
Rent Unlimited Calling Combo starting @3600 INR
Purchase A Dialer starting @5200 INR
EMI A Dialer starting @1500 INR
RETAIL
?3600
Rent A Dialer starting @720 INR
Purchase A Dialer starting @5200 INR
EMI A Dialer starting @1500 INR
Location:
89 A Marudhar nagar, Lane 3B, Ajmer Rd, Heera Nagar, Vaishali Nagar, Jaipur, Rajasthan 302021
Email:
salesatpredictivedialerindia.in
Call: