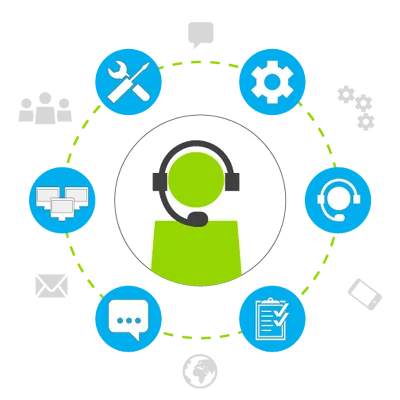 Avyukta Intellicall began its journey in 2008 and till now has helped 1500+ businesses to line up their call centers and provided them with quality-oriented product applications, complete call center services like call center dialer, dialer VoIP, hosted call center, predictive dialer, CRM solutions, call center VoIP minutes, turnkey, and BPO call center solutions. Our support and software team has been working for the past 14 years in the telecommunication industry. Our call center dialer software is based on the latest technology and the best across the globe having setups in 9+ countries like UK, US, Philippines etc. The company is based in Jaipur, Rajasthan, but has clients in additional than 9 countries. We are proud to possess worked with numerous well-known brands including KFC, Amul, Pfizer, Pizza Hut, HP, BSNL, etc.
Why choose us..
Avyukta Intellicall Consulting Pvt. Ltd. is among the pioneer companies that provide Turnkey Contact Center Solution to avail single vendor coordination with the top clients through a reliable and harmless channel partnership and official resellers.
Who we are? What we do?
Avyukta Intellicall is an End To End Call Center technology solutions that provides soft/hard predictive Dialer, IVR, Customer Relationship Management (CRM) Solutions for call centers, SMEs and Business Process Outsourcing (BPOs).
Our Mission
From the starting, we follow the direction "will Grow, when the client Grow" always keep the client's requirement on Priority & offer one of the best solutions, most simply, within the time structure as we also understand the value of Time.
Features
Check The Features
WebRTC (No softphone required on Linux/Windows Machines)
Provision to set user levels and permissions for certain features and campaigns
Skills-based ranking and call routing per inbound group(queues) and campaign
Queue Prioritization per campaign and inbound group, Single Tree IVRS, Real Time Monitoring
SMS/Email OTP verification on lead /recording /report download for better internal security
Automated Team Leader for time-based triggers (SMS/Email reminders) for wait time, pause time, No Calls
Hot Key Disposition (to save TAT and increase Talk Time)
Faster hang up/dispositioning with one key press (Hotkeys)
Press 1, Broadcast, OBD, Voice Mai
Predictive Auto Dialer
A predictive dialer dials a listing of telephone numbers and connects answered dials to people making calls, often mentioned as agents. Predictive dialers use statistical algorithms to attenuate the time that agents.
CRM Solution
Customer relationship management (CRM) may be a process during which a business or other organization administers its interactions with customers, typically using data analysis to review large amounts of data.
CTI Solution
Computer telephony integration, also called computer–telephone integration or CTI may be a common name for any technology that permits interactions on a telephone and a computer to be integrated or coordinated.
IT Service
IT as a service (ITaaS) is an operational model where the knowledge technology (IT) service provider delivers an information technology service to a business. The IT service provider is often an indoor IT organization.
Cloud Telephony
Cloud Telephony Solution - For Businesses in India. Instant go-live. Virtual Number, Configurable IVR, Progressive dialers, Number Masking. Best Cloud Telephony Provider - Ozonetel. Advanced IVR. Easy CRM/CTI Integration. Powerful Auto Dialer.
VoIP
VoIP, also called IP telephony, maybe a method and group of technologies for the delivery of voice communications and multimedia sessions over Internet Protocol (IP) networks US, Canada, Australia, UK, Philippines, Africa, Brazil, etc.
Pricing
Check our Pricing Plans
DIALER
₹720
Rent A Dialer starting @ 720 INR
Purchase A Dialer starting @ 5200 INR
EMI A Dialer starting @ 1500
INR
UNLIMITED
₹3600
Rent Unlimited Calling Combo starting @ 3600 INR
Purchase A Dialer starting @ 5200 INR
EMI A Dialer starting @ 1500 INR
RETAIL
₹3600
Rent A Dialer starting @ 720 INR
Purchase A Dialer starting @ 5200 INR
EMI A Dialer starting @ 1500
INR
Location:
89 A Marudhar nagar, Lane 3B, Ajmer Rd, Heera Nagar, Vaishali Nagar, Jaipur, Rajasthan 302021
Email:
sales@predictivedialerindia.in
Call: